Buyology Inc. helps leading companies enhance the productivity of their innovation across the marketing value chain to drive transformational growth.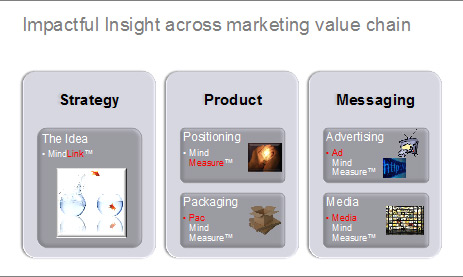 Strategy: MindLink™ quantitatively measures a brand's relationship with its customers/consumers in order to identify breakthrough business building strategies that will both drive immediate sales and enhance long-term customer relationships.
Product: MindMeasure™ rigorously optimizes alternatives positionings, new product ideas and/or new product executions and provides deeper, actionable insights on (1) why one is doing better than the others and (2) how to enhance appeal and performance of the "winning" idea. PacMindmeasure™ more deeply assesses alternative packaging and not only identifies which is the most effective but why it is working and how to make it work even harder.
Messaging:  AdMindMeasure™ evaluates alternative video, print or digital advertising alternatives and identifies which is most effective, why, and how to enhance its effectiveness.  MediaMindMeasure™ identifies which media alternatives provide the best context for your brand and thus helps significantly enhance your brand's messaging and in-market impact.
Publications
To download the Conscious/Non-Conscious white paper by Brian A. Nosek and Mahzarin R. Banaji discussing the phenomenon behind Buyology's nonconscious testing, please click here.